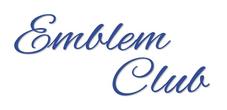 Emblem Club – Elks Lodge #2103
Our Name EMBLEM:
Signifies the Flag of the United States of America,which is preserved and cherished as a priceless possession.

Dedicated to Charitable Acts in the Community, the States, and the Nation.
Dedicated to Unite all Emblem Clubs in closer bond while furthering good fellowship among the members.
Dedicated to Promote and protect the interests of Clubs and to Bear True Allegiance to the Constitution and Flag of the United States of America.

The Emblem Club Motto – TRUTH, JUSTICE, and CHARITY and is the guide in all Club Work.

WHY BECOME A MEMBER OF EMBLEM CLUB?

It is Pride in Belonging!
It is Exciting?
It is Motivating?
It is Accomplishment!
It is Rewarding!
It is commitment to the Values of Caring!
It is an Opportunity to Make a Profound Difference!

We associate ourselves to respect and honor the American Flag; to foster and perpetuate Patriotism; to promote Fellowship; to involve ourselves in Community Service … with emphasis on the homeless … the aged … the handicapped … the veterans … our youth … drug awareness and literacy programs. To promote family involvement in our projects … to promote joint projects with the Benevolent and Protective Order of Elks and other civic organizations … to consider membership in Emblem Club an opportunity to serve … to focus on our continuing growth … to offer our talents … by being an asset to society … to improve the quality of life in the communities in which we reside.
Our Members Say … Emblem Club embraces participation … offers challenge … enhances self-esteem while building on the tradition of our founders … that bettering the lives of others is truly the greatest of all achievements…as well as establishing higher ideals in every day living.

We extend an invitation to individuals who are eighteen years of age … American citizens … sponsored by an Emblem Club Member and a member of the Benevolent and Protective Order of Elks in good standing.
If interested in becoming a member, please contact the main Lodge office during office hours.